When we left Memphis, we crossed the Mississippi and entered Arkansas. We had a 9 hour drive to Dallas, Texas ahead of us.
Our first destination was McClards in Hot Springs, Arkansas. Now the name Hot Springs had me imagining some lush hilly landscape with lots of lakes but that's not what it was like at all.
McClard's was okay. It's a nice little building with a good atmosphere and they specialise in BBQ and tamales. We ordered a tamale (which I thought looked like a poo) and some ribs. I found it to be mediocre.
After leaving Hot Springs, we drove back to the motorway. The scenery really got pretty then, full of lush green hills and lots of lakes as I had previously imagined.
We had a rather uneventful drive to Dallas, although we did pass a town called 'Bald Knob' which made us both chuckle like school children.
Dallas is kind of a weird town. There doesn't seem to be much there. But there were some spectacular clouds in the sky, really moody and stormy looking and we saw an incredible lightning storm up in the clouds. It reminded me of Norse mythology and Thor up in the clouds throwing lightning bolts around.
The next morning we got up and drove 3 hours to Taylor, Texas. There isn't a great deal in Taylor but it is home to Louie Mueller. Easily the best barbecue I've ever eaten. By a LONG way.
Wayne Mueller was the nicest guy in the whole world. Seriously so generous with his time. We were in there for about 3 hours.
I can't put across in words how much I absolutely love Louie Mueller. The building is incredible. It was built in 1906 and has been a couple of things (a grocery store, a sports hall) before being turned into the BBQ joint in 1959. The walls are black, coated in years and years of smoke and there's cool, old-fashioned pieces of Americana everywhere.
The food is literally ridiculous. I could have curled up in the brisket and died a happy lady. It was perfect. It's cooked with a black pepper crust, seasoned with some salt. That's it. So simple yet so gorgeous. The beef rib was the size of my leg and I wouldn't have been surprised if he'd told me it was from a dinosaur. The rub on the pork ribs was amazing. I could go on forever but really, you just have to try it for yourself.
Sorry for the blurry iPhone photo!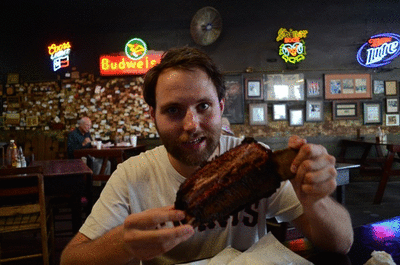 My first ever GIF!
This is just a picture of a cool train.
Now we're in Austin, Texas for a few days.